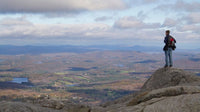 We started Designer Bee for one simple reason...we couldn't find quality affordable gifts we wanted to give to family and friends...
So, we decided to start making our own!

As a family team we work on ideas, argue (just a little!) about them and come up with items we think will bring meaning and enjoyment to life.

Our workshop is located in the beautiful hill country of New England in Rindge, New Hampshire, near the base of Mount Monadnock, which has earned the moniker of the "most climbed mountain in North America." In fact it may be the most climbed mountain in the world next to Japan's Mt. Fuji. Monadnock has been the centerpiece of our region for generations and revered and climbed by the likes of Thoreau, Emerson and Mark Twain to mention a few.

Monadnock's beauty and awe sit outside our workshop windows as a constant source of inspiration.

OK, but why "Designer Bee" specifically? Before we opened our workshop we were lifelong avid gardeners and small scale farmers wherever we lived in New England or the Canadian Maritimes and that included raising honeybees!

"Busy as a bee" only begins to describe the life cycle of these amazing little creatures. Some of our best moments in life are spent in and near the hives observing the wonders they create and how they go about it.

So, we take our cues from nature and use the best of our skills to try to create something you can be proud to have in your home or to give as a gift that will be appreciated and cherished. It's all really as simple as that!