News
Welcome to Designer Bee of New England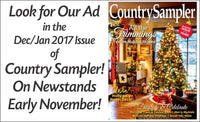 We are excited to bring you these new designs for the 2016-2017 Holiday Season! We've been busy as bees in the workshop and all set you deliver direct to you.
Be sure to watch for our advertisement coming in the Dec./Jan. 2017 issue of Country Sampler magazine. A lot of our customers have encouraged us to spread our wings, so we decided to bring many of our creations to the wide world. We're ready to help everyone have a joyous and beauty-filled New Year.
We are always happy to hear your comments and ideas for new products. I like to say our best ideas come from you!